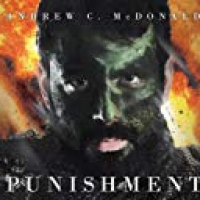 Andrew C. McDonald
Crime Fiction, Thrillers, Suspense, Action & Adventure, Science Fiction, Teen & Young Adult, Children's, Poetry
Profession

Emergency Police/Fire Dispatch
After attending college on full scholarship and receiving a bachelors degree in Applied Mathematics, Andrew McDonald served as an officer in the U.S. Army from 1985 - 1992. Andrew exited service as a captain after seeing action during Operation Desert Storm. Subsequent to that he took employment as an emergency 911 police/fire dispatcher, which position he still holds. Andrew lives in central Florida with his wife since 1985, Emily, four dogs, one cat, and a very loud bird. An avid reader of fantasy, sci-fi, and thrillers, he spends his spare time writing fiction, comedy, poetry, and song satires.
Video
Punishment & Good Deeds
Recommended Featured Books
"Leaders must pick causes they won't abandon easily, remain committed despite setbacks, and communicate their big ideas over and over again in every encounter."